Safety is among the critical factors you consider while purchasing and using a cooking grill. It reflects the possible risks to you, the surrounding environment, and even the foods you will be cooking. 
Among the great concerns surrounding the minds of most people is the safety of indoor electric grills. If you are thinking of investing in a quality electric grill, you are in the right place to learn various aspects of electric grill safety. This article answers some of the questions and highlights safety tips/precautions to observe while using an indoor electric grill. 
What is an Electric Grill? 
A large population is conversant with typical charcoal and propane grills. An electric grill is simply a grill unit that uses electricity as its source of power. Its heating element is embedded below the cooking surface or within it. Most of the electric grill is portable, and you easily use them on a countertop or a table. 
Is Indoor Electric Grilling Safe? 
Indoor grilling using an electric grill is safe. However, indoor grilling using regular grills, i.e. charcoal and propane, is dangerous. For this reason, electric grills have gained a lot of popularity as the ultimate methods of indoor grilling. 
Here are a few reasons why indoor electric grilling is safe: 
You don't have flames and carbon dioxide in the house. Open flames can easily cause a fire if not well managed. On the other hand, excess carbon dioxide indoors is harmful and negatively affects your health since you cannot inhale adequate fresh air. 

Electric grills come with heat control options; thus, you can easily regulate the amount of heat you use to cook your foods. As a result, you can hardly burn your food. 

Unlike charcoal and propane grills, electric grills do not produce harmful gases and elements such as carcinogens that risk your health after eating grilled foods. For this reason, a significant number of people concerned about their health are turning to indoor electric grills. 
Do Indoor Electric Grills Emit Smoke? 
Indoor electric grills emit smoke (similar to a typical stovetop) but very little smoke compared to the charcoal grills. Electric grills don't produce flames; thus, they release little to no smoke while cooking. 
Less smoke when cooking indoors means that you do not damage the paint, furniture, curtains, and other things in the house with soot. Additionally, we cannot overlook that smoke has carbon dioxide that is dangerous if produced in a poorly ventilated environment. That's why such grills are safe for indoor use. 
Are Electric Grills Safer than Charcoal and Propane Grills? 
Yes, electric grills are safer than charcoals and gas grills when used indoors. As mentioned above, electric grills are mainly suitable for indoor use because they do not produce smoke and have no flames. Additionally, if you live in an apartment or have limited space outside not to do the outdoor grilling, then an indoor electric grill is the ultimate choice. 
According to some insurance companies, a charcoal grill is not safe mainly because of its flames and carbon dioxide. They further state that propane grills are safer than charcoal grills, but they cause 83% of the grill fires. The main concern with the propane grill is the dangerous gas leaks that can easily cause an explosion. For that reason, electric grills remain safer than the two. However, all types of electric grills have a potential fire risk if not well managed and used effectively.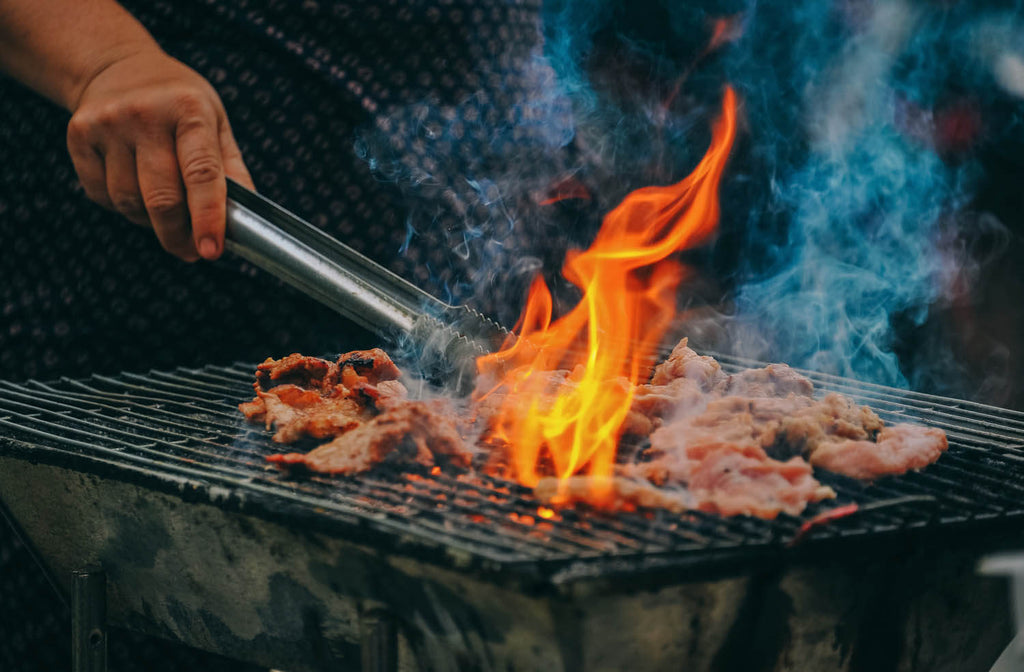 Is an Indoor Electric Grill Worth it? 
There are several reasons why you should own an indoor electric grill. 
First, if you love grilling throughout the year, an indoor electric grill is a significant investment

They require little space in your kitchen for storage, and while cooking

Electric grilling enhance healthy cooking 

Indoor electric grills have removable parts, thus making them easier to clean. Additionally, most parts are dishwasher safe

It's a safe grilling method in the house. It's regardless of where you live, including apartments that restrict charcoal grills and have no backyards.  

Electric grills are very affordable. Some 

cost less than $100

, yet they are effective. 
Basic Electric Grill Safety Tips 
Here are practical safety tips you ought to follow when using an indoor electric grill: 
Do not leave the grill unattended

Turn off and unplug electric grills from the power outlet after use and before cleaning

Always inspect the power cord, plug, and heating element before you plug in and operate an electric grill

Never expose/immerse an electric grill cord in water or other liquids

Use indoor electric grills in well-ventilated rooms or near a window in your kitchen. 
Check out Atgrills indoor electric grills and griddles to cook food on a safe cookware with natural stone coating.

Sources
hpba.org
barbecuesgalore.ca