Millions of people love grilled foods and enjoy the grilling process itself. An average person grills at least twice a week while others grill more times. Steaks, burgers, hot dogs, and vegetables are among the commonly grilled foods. However, a grill pan is very significant as it determines the kinds of foods you cook and your results. 
How do I choose a grill pan? If you're thinking of upgrading your grill or buying your first grill, there are a few things you should look for, such as the cooking surface, handles and shape of a grill pan. This article reflects on the specific aspects you should focus on while selecting a grill pan.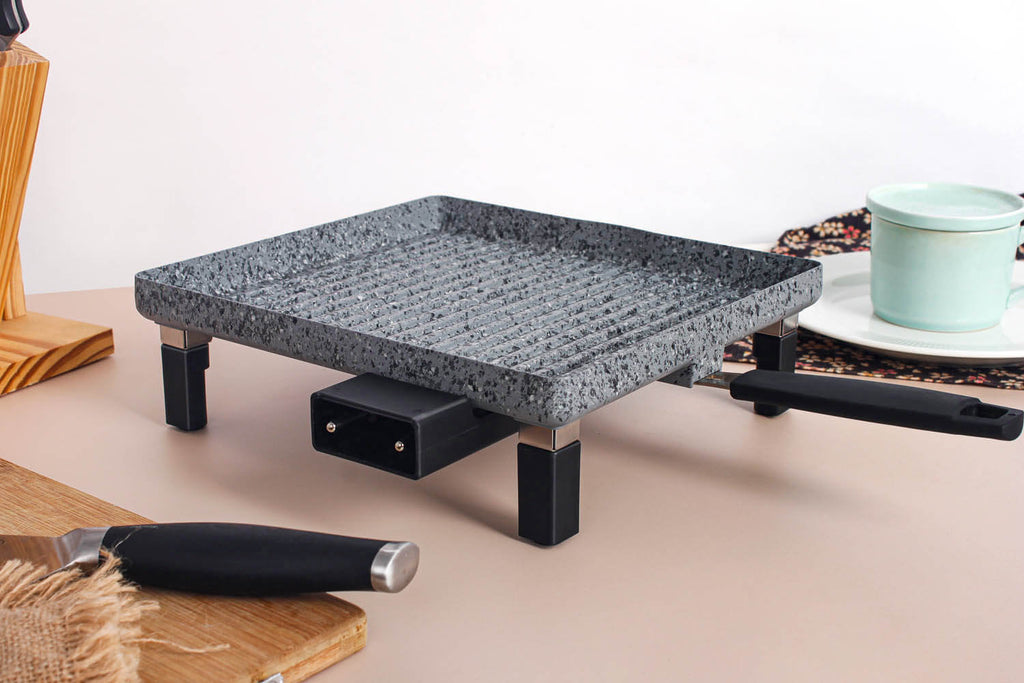 Things to Look for When Choosing a Grill Pan 
1. Construction 
Grill pans are made of different materials and retain heat differently. Grills made of cast iron and aluminum materials are the best selections. Additionally, they are highly durable. Grilling needs a pan with high heat retention capability and better performance during the cooking process. 
Aluminum grill pans are the most suitable lightweight pans. 
Ceramic grill pans heat up very quickly but they prone to overheating if not well managed while grilling. 
2. Cooking Surface 
When choosing a grill pan, the cooking surface is something you cannot overlook. Among the essential things, you should consider include raised ridges and the material on them. 
Higher ridges make stronger marks on the foods and vice versa.
The coated material where you cook your foods is also significant. Grill pans with enamel and non-stick coatings such as natural stone coating are easier to clean. The best grill pan is that one where foods don't stick, and food doesn't get scorched even when it's not seasoned.
On the other hand, uncoated stainless grill pans easily burn foods and are difficult to clean. 
3. Shape 
Grill pans are in different shapes depending on the model and the manufacturer. 
An ideal shape is a rectangle or square grill pan. For instance, a rectangular grill pan will be easy to store and easily fits on a kitchen top counter or a medium-sized table. It also has a better cooking surface area. 
Conversely, a circular grill pan doesn't have a great surface area compared to rectangular ones. The outstanding advantage of round pans is even heat distribution. 
4. Handles 
When you have a long handle on a grill pan, there will be less heat felt on your hands while holding it and vice versa. However, longer handles add weight to your pan. 
Additionally, those grill pans with added weight have another smaller helper handle opposite the long handle that enhances easy handling. 
Handles may be made of different materials, i.e. plastic and metal. Both are greats. However, plastic handles are not oven-safe.  
5. Size 
Size is another critical aspect you ought to consider while choosing a grill pan. 
Larger grill pans are suitable for cooking a large number of guests. However, they occupy more storage space, and some may require extra effort while cleaning. 
On the other hand, smaller grill pans are ideal for a medium-sized family or a single person who like grilling. Such grill pans accommodate enough food for a few people. However, they are compact thus easy to store and clean.
Additionally, dual-sided grill pans are designed with extra features. They are a viable choice if you have minimal space but still need different cooking options. 
Choosing the ideal size is solely based on your needs and the number of people you might be cooking for regularly. 
6. Safety 
You should always ensure that any kitchen appliance or item that gets into contact with your food is safe. Therefore, your food is not prone to contamination. 
Always choose grill pans that are made of non-toxic materials, PTFE and PFOA free. 
7. Pour Spout 
Grill pans with a pour spout are great than those without them. This simple feature on a grill pan allows removing any grease accumulated. That also makes the cleaning process easier after cooking. 
The Bottom Line 
If you want to achieve excellent grills marks and charring on foods such as meats and vegetables, you have to consider the above factors while selecting a grill pan. 
Grill pans are great and healthier compared to cooking on a frying pan. Additionally, it's a great way of achieving a smoky flavor on foods.
Check out Atgrills indoor electric grills and griddles to cook food on a non stick cookware with natural stone coating.