An electric griddle is a significant piece you ought to have in your kitchen. It's an ideal tool that is easy to use and fast to cook with.
Is an electric griddle worth it? An electric griddle is a viable appliance that can cook a variety of meals for breakfast, lunch, and dinner. Electric griddles are user-friendly, offer effective cooking, and are easy to clean and store. This article will enlighten you about electric griddles and why you need one in your kitchen. 
What is an Electric Griddle Anyway? 
An electric griddle is cooking equipment with a non-stick coating surface, and the heating element is beneath it. As the name suggests, it uses electricity as its source of power. Additionally, a griddle is often used for cooking various foods such as pancakes, bacon, eggs, toast, steaks, burgers, sandwiches, fish, vegetable recipes, to name a few. 
Is an Electric Griddle Safe? 
Safety is one of the key things we're concerned about before we start using any kitchen equipment. If something is not safe, then it's not worth your investment. 
Most griddles, such as our Atgrill electric griddles, are made of non-toxic materials and are PTFE & PFOA free. That ensures that you're eating healthy foods. Also, by proper regulation of temperature, your food won't burn. Lastly, most griddle pans are dishwasher safe, thus making them easy to clean. 
However, it requires you to observe safety rules as you do while using any other type of griddle. It includes not letting the power cord get into contact with water. 
5 Reasons Why You Need to Own an Electric Griddle
Are you still thinking of investing in an electric griddle? You're on the right lane. Below are the benefits and reasons you should buy one. 
Easy to clean surfaces 
Parts of electric griddles, including the cooking surfaces, are easy to clean. For sure, when cleaning a cooking appliance/tool and it's tedious, you tend to shy away from using it regularly. However, this is not the case with electric griddles. 
As mentioned above, most parts of electric griddles are dishwasher safe except for the part with the thermostat. 
Even heating 
When you compare the heating results of an electric griddle and that of the typical stovetop, the electric one results in even heating. This is simply because a stovetop griddle heats faster where the burner is located; thus, heat takes time to distribute all over the griddle pan. On the other hand, the electric griddle's heating element offers even heat distribution all over the surface, thus offering better cooking. 
User Friendly 
Electric griddles are compact and have a great feature that quite essential in enhancing your cooking. When compared to the conventional griddles, they make the cooking easy. 
The heat controls on electric grills make it easier to set the exact temperature you want to attain while preheating and while cooking. Also, most indoor electric griddles occupy minimal space in your kitchen for storage. 
Electric griddles can be used in kitchens, balconies, and even rooftops since they are lightweight and portable. 
Versatility 
The versatility of electric griddles is among the key things that make them stand out as an alternative cooking method. Most people have known griddles for cooking breakfast eggs, toasts, and pancakes, but you can make a full range of foods anytime you need to eat.
Also, with an electric grill, you can easily cook more foods within a short period. All you have to is to allow it to heat again within seconds or a minute before cooking again. 
Healthy Cooking 
Regardless of the recipes, you wish to cook on an electric griddle; you will need minimal oils on your griddle or none. Also, your foods are cooked up very quickly and do not come into contact with direct flames of fire. Flames and smoke led to Polycyclic Aromatic Hydrocarbons (PAHs) production that poses a health risk to your body.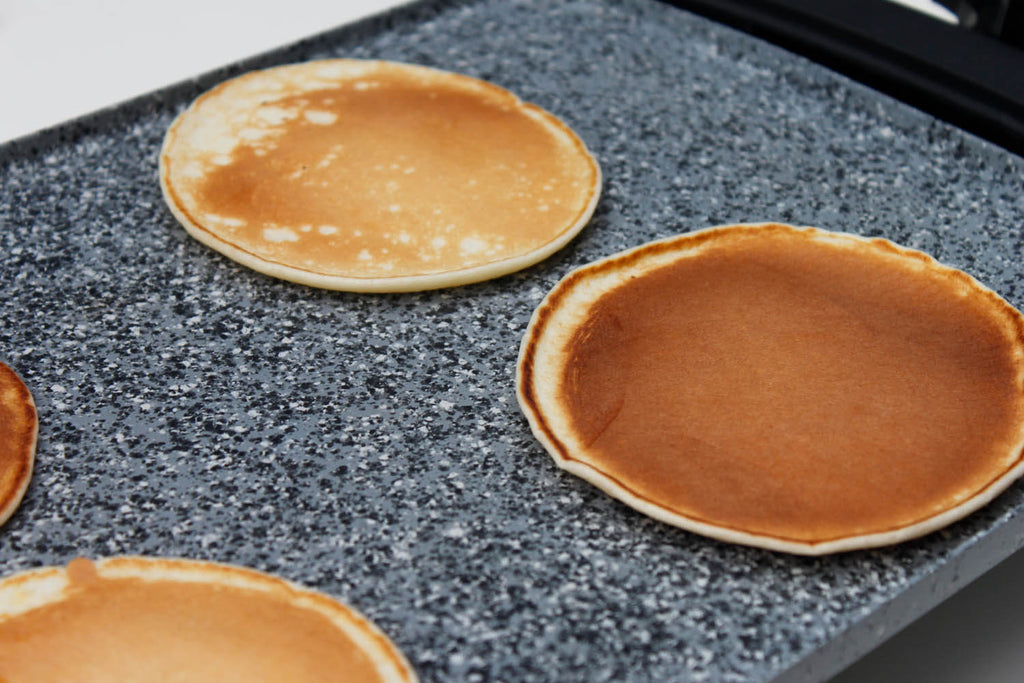 Final Thought 
Electric griddles are worth the investment. They are easy to clean, easy to use, handy, enhance healthy cooking, and have great features that add to effective cooking. Also, they are portable and easy to store. 
When purchasing an electric griddle, consider the size you want, type of coating on the griddle pan, temperature rate, kind of thermostat, capability, and ease of use. You need an electric griddle that suits your cooking needs and will last long. 
Check out Atgrills indoor electric griddle to cook food on a cookware with natural stone coating.
Sources
thekitchn.com
electricskilletguide.org
thespruceeats.com