Grill pans are among cookware you can use to achieve charring and grill marks on foods. They come in a round or rectangular shape and have ridges on the cooking surfaces. The non-stick coating on the cooking surface is also a notable feature. 
Probably, you might be wondering what you can cook on a grill pan. Grill pans are versatile and can cook a variety of foods, from meats to vegetables. This article reflects on foods and common recipes you can cook on this cookware. 
Foods You Can Cook on Grill Pans 
Almost any food cooked on a typical grill can be cooked on a grill pan. Therefore, you have endless options. Here is our recommended list. 
Meat 
No doubt that meat is one of the most cooked food on typical grills and grill pans. Grill pans will handle anything from red meat to white meat. Therefore, if you want to cook some steak, a grill pan will handle it. 
Among the common and best cuts to cook on a grill pan are pork chops, fish (specifically salmon and tuna), chicken breast, loin steak, tenderloin, sirloin, flank steak, ribeye, and porterhouse steak.   
When grilling cuts, you ought to consider lean meat because it has a low-fat content. 
Below are meat/steak recipes worth trying on your grill pan: 
Garlic butter grilled steak

Grilled Marinated Sirloin Steak

Spice rubbed pork chops

Grilled Cuban Pork Chops

Grilled lemongrass pork chops

Grilled lemon-garlic salmon

Grilled salmon with tomato salsa

Garlic herbed grilled tuna steak

Lamb loin chops with blackberry sauce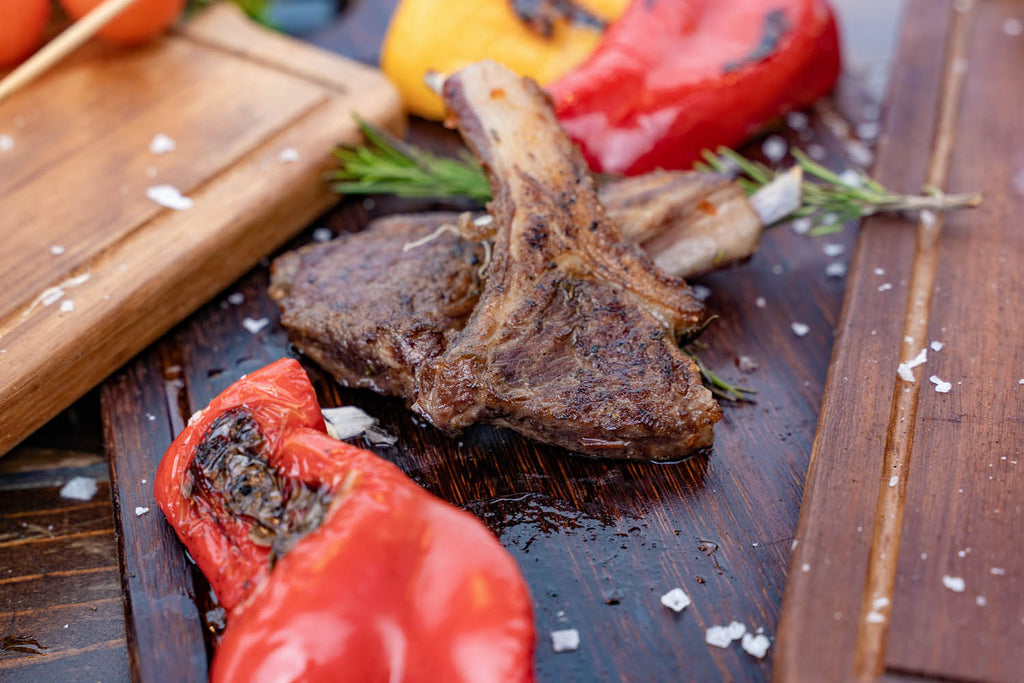 Vegetables and fruits
Vegetables are other excellent yet healthy foods you can cook on a grill pan. In fact, grilled vegetables are tastier and have a better flavor compared to other cooking methods. 
Among the common vegetables, you can cook on a grill pan include eggplants, zucchini, onions, asparagus, and mushrooms. 
You can also cook fruits on a grill pan. They include pineapples, strawberries, watermelon, etc. Unlike typical grills, the good thing with grill pans is that they hold the juices from your fruits and enhance the flavors. 
Here is our list of the best vegetable recipes to cook on a grill pan 
Mixed grilled vegetables 

Grilled vegetables with lemon

Grilled veggie kebabs 

Grilled balsamic vegetables 

Grilled cauliflower steaks 

Garlic mushroom kabobs 

Grilled zucchini 

Marinated grilled vegetables 

Ginger Marinated Zucchini with Lime Yogurt

Honey grilled watermelon Caprese salad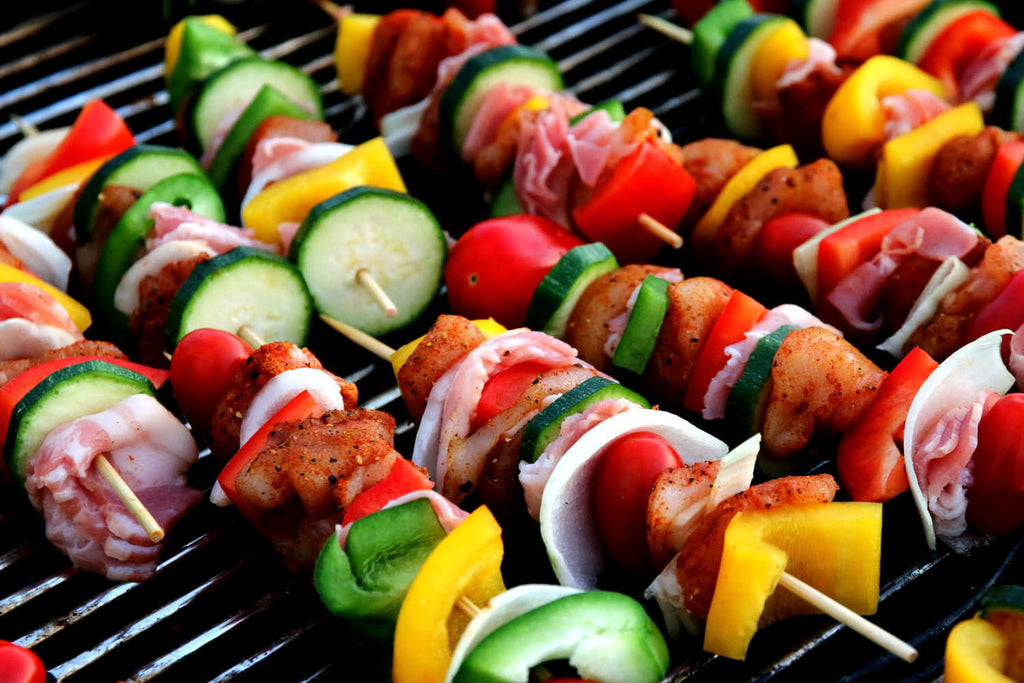 Seafood
Scallops, oysters, and shrimp among the common seafood you can cook on a grill pan. Grilled seafood has a great flavor, and it's delicious. 
Check out our list of seafood recipes you can prepare on your grill pan: 
Grilled scallops with corn salad 

Grilled shrimps with lemon skewers 

Grilled scallop sandwiches 

Shrimp fajitas in foil

Grilled oysters with spiced butter 

Spicy grilled shrimp 

Grilled shrimp with honey garlic marinade 

Grilled Hoison Garlic Shrimp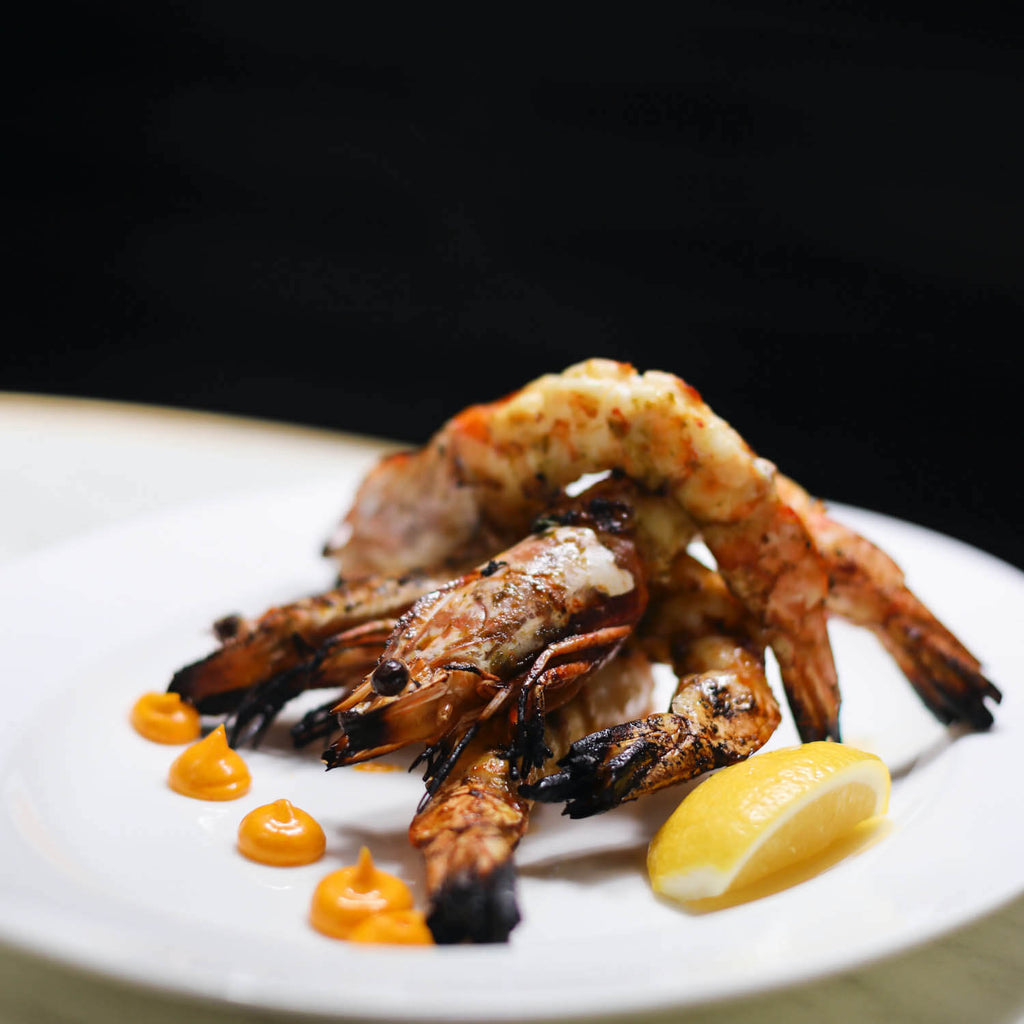 Sandwiches 
Grill pans will also cook some of your favorite sandwiches. 
Here are some recipes worth trying: 
Philly cheesesteak sandwiches 

Ribeye sandwich 
Burgers 
Lastly, grill pans can cook your burger patties. It makes well-caramelized sear marks on the patties and leaves them with an exceptional flavor. 
One of the common burgers cooked in a grill pan is the cast-iron burger. You can as well try the blue cheeseburger. 
Final Thought
Grill pans are versatile cookware. They can cook various foods and give incredible results similar to that of a typical grill. Generally, most of the foods you can cook on other grills can be cooked on a grill pan. 
Check out Atgrills indoor electric grills and griddles to cook food on a cookware with natural stone coating.